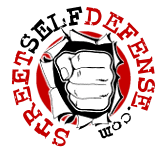 The Truth Is...
90% of what is taught in most martial arts schools, self defense seminars and videos...just won't work on the street!
Maybe you have been studying the martial arts for a while or have taken a couple of self defense classes. Or... perhaps you feel it's time you better learn how to defend yourself in these perilous times. Have you ever wondered if you could really survive a brutal street attack?
If so, your feeling of insecurity is well founded because...
Most of what is being taught today in the typical martial arts school, self defense seminar and self defense video is...
Is close to useless in a real street attack!
It's true. Find out why and what you can do about it in the following Special Report.
"Winning On The Street"
How to have an unfair advantage over any attacker.
Dear Friend,
Maybe you've had some training. Perhaps a self defense course or two. You may have studied a few self defense videos or done some formal training in a martail arts school. But you know something is missing. You just aren't sure what. You're not absolutely certain that you would come out the winner in a brutal street attack!
You wonder if what you have learned would really work in a real situation.
You're wise to be concerned. A skilled, street-wise mugger, rapist or mentally deranged thug, can come blasting in at you with unfamiliar techniques. Before you know it... you're down on the pavement being stomped into unconsciousness by some jerk who could care less about you or your family, never mind the value of a human life!
I can tell you...
Chances are high you wouldn't come out the winner!
How do I know this? Well, I've been training and teaching the martial arts for over 35 years. I've seen it all. Good instructors and bad. Good schools, bad schools and everything in between.
I've evaluated over 100 self defense videos. A few good ones, but most of them won't help you a lick...in a real fight! If You Really Want To Learn How To Defend Yourself And Your Loved Ones, You've Finally Come To The Right Place.
Let me explain. A little over 14 years ago I had a rude awakening. I had been studying and teaching the martial arts for over twenty years at that time, so I was fairly confident in my skills.
As it happened, a friend of mine invited me to train with his master instructor. Always looking to learn and improve my fighting ability, I accepted. As it turned out, it was the best decision I have ever made in my martial arts career.
The first time I met Shihan (not his name but his Master title),a small man in his mid sixties, he asked me to show him how I would defend myself if I were attacked in several different ways. I agreed. He then asked one of his black belts to come at me with a few full power, street type attacks. This guy, his name was Bill, was a huge man. Probably six foot four or five and 250 pounds of solid muscle (I found out later that he once played for the Philadelphia Eagles). It didn't take me long to realize...
the stuff I learned and was teaching my students would never work in an all out street attack!
Shihan then asked Bill to attack him the same way, only harder. You had to see it. Here's this mountain of a man going full force at the master who stood, maybe five-seven and 140 pounds soaking wet!
It was over in a matter of seconds. The speed, accuracy, power and focus were incredible. But, that's not what really impressed me. See, I guess I expected that from a Master Instructor with over 40 years of experience. The real shocker was the simplicity of the techniques he used.
Techniques so powerful, so effective, so natural, yet so simple that even a beginner could execute them!
Over the next few years Shihan went on to teach me the most brutally effective, yet simple, fighting system ever developed. He held nothing back. All his moves, techniques and all his secrets including:
How to disguise your techniques so you can hit 'em before they ever see it!

Why most martial artists freeze when attacked on the street.

How to increase your reaction time by three fold.

How to instantly know what to do in any situation.

The one element you must control when faced with a boxer.

Why you must never kick a certain way in a street fight!

The simple most important key to defeating much larger opponents.

Five powerful methods to instantly stop a frontal attack!

How to escape from locks, holds and chokes (almost effortlessly).

Simple take downs... They don't get up from!!

Crippling counter attacks.

21 Ways to DROP your attacker in 5 seconds or less!

Hidden strikes that they never see coming!!

How to use every inch of your body to develop devastating power.

... and much, much more!
Over the years I've continued to perfect and teach Shihan's system at my own dojo. (Yes, I am a real instructor and personally teach at my school five days a week!) Here's what just a few of my students are saying:
"I've trained with other instructors, even in the military, but Shihan Pace's system of self defense is the most effective and practical by far."
S. Christensen, Hamburg, NJ
"Having trained over 20 years in Uechi Ryu karate before coming to Mr. Pace, I had an extensive background in self defense. I've learned more about street fighting tactics in the last two years than in my 20 years of prior training."
J. Burka, Wantage, NJ
"As a women, it's important that your first strike is your best one, as you might not get a second chance. Shihan Pace's system is awesome. Quick, simple and easy to learn."
Dr. Laurie LaSorsa, Chester, NJ
"Shihan Pace's method of teaching self defense is awesome. None of the fluff you get from most videos I've seen. Just real, down and dirty, street techniques that really work. Everyone should have his video."
G. Tizzano, Franklin, NJ
"... the best of the best. Finally some stuff that really works on the street."
C. Manzione, Vernon, NJ
"Using a technique I learned from Shihan Pace, I dropped a would be attacker with one well placed blow. This guy was twice my size."
T. Akos, Oak Ridge, NJ
"Shihan Pace is the real thing. His self defense system is quick, effective and powerful. I will only teach his techniques at my dojo."
T. Joseph, 4th Degree Black Belt, Fairfield, NJ
Imagine... having Instant Reactions, Blazing Speed, Bewildering Deceptiveness and Devastating Power in Just Weeks, Not Years!
Look, what it comes down to is anybody can learn this stuff. It doesn't take athleticism, physical conditioning or speed. What it does require is knowledge. As the saying goes...
Knowledge is Power!
Even today, in the 21st. Century, this kind of knowledge is hidden from all, but a an elite few. Finally, I making Shihan's system (which has now become my system on his passing) available to you.
I have condensed the essence of this system into a video called...
"Winning On The Street"
How to have an unfair advantage over any attacker.
This video teaches my basic fighting strategy. It is only for those who need a powerful, yet amazingly simple, system to protect themselves in a life threatening situation.
These strategies, even if practiced a short time, will teach you to instantly react in a hostile situation. Even without thinking about it! This is what you'll learn:
Strategic Targeting techniques that will drop a man of any size.

How to use every inch of your body to develop devastating power.

How to wire in these fighting skills quickly and easily.

Knowing when to use speed hitting techniques and when to use power (a critical distinction!).

How you can easily avoid being smashed by a thug who's got a hold of you (even if he's much bigger and stronger).

How to deal with a boxer.

How to instantly disable even the toughest of street criminals.

The single most important concept in street fighting (this is where everybody goes wrong!).

A single technique (using just one finger) to stop an assailant in his tracks.

Why it's not important to be physically gifted or even athletic!

Three simple techniques that always work!

The surprising reason most Black Belts lose fights!!

An amazing technique that will stop even a giant (you'll be impressed with this one).

A simple (and often overlooked) counter attack that will almost guarantee a safe escape from a common street attack.

The three biggest mistakes most people make when attacked on the street.

7 sure fire ways to drop the jerk now!

How to be prepared for a sneak attack.

How to deal with a kicker.
Plus so much more!
"I am very impressed with the content of the videos and look forward to mastering the techniques...They are very effective moves yet simple to excecute and this style should be taught in more Dojo's to give people a realistic idea of what happens in a real life hostile situation."
Adam Bradshaw, Birmingham England
"I recently bought your tapes, and I am very impressed. The way they are presented (at repetitive slow and fast speed) is great. Ican watch your movements on the first demo and try to follow through and the next few."
"The only self defense training I have had is boxing. The techniques are so simple, after one week of watching the tapes, I already have some of your moves "wired in". I wanted to thank you. Nothing is worth more to me than my safety, confidence, and peace of mind. Thanks Again."
Dennis Murphy, Mount Holly, NJ
"I just received your videos today. I watched them both and have to say I am quite impressed. The techniques taught are easy to understand, and simple to execute with no bs in between. I am more than happy with these videos. Thanx again."
Brett Dawson, Santa Cruz, CA
You'll learn all this quickly and easily, regardless of your athletic ability... in a way that's fun and exciting to practice. You'll be able to use these techniques the same day as you get the video!
Your friends will be astonished, your instructor impressed and your opponents terrified.
So start training smarter instead of just harder.
Have an unfair advantage over any attacker. The complete Winning On The Street video is only $39.95...($2 more for DVD) and if you order within the next 5 days I will include a second video absolutely free... .
Free Internet Bonus Video
If you order within the next 5 days I will include my Weapons Of The Body video or DVD at no extra charge. In this full length video I teach you how to perform all the punches, strikes, blocks and kicks you need to know to defend yourself with my system. I also cover nerve cavity and vital area targets so you'll know exactly how and where to strike. This video is a $39.95 value, but it's yours free if you order within the next 5 days! Just mention you saw this on the Internet.
So to wrap this up you get my Winning On The Street video and the Weapons Of The Body video (or DVDs) , a $79.90 value, for almost the give away price of $39.95 ($2 more for DVDs) plus $7.75 for shipping and handling.
Order your copy of Winning On The Street today. Watch it. Try it out. Practice my techniques for a full 90 days. And, if for any reason you feel it's not all I say it is and more. Or, you just don't feel it's worth every penny that you paid for it. Simply return it for a full, no questions asked, refund (less shipping). And you can keep the Weapons Of The Body video as my gift for just giving it a try!
You see, you have absolutely no risk. If you are not 100% satisfied for any reason, simply return the video and keep the Weapons Of The Body video for free.
Look, you don't need years of training. You don't have to be strong or fast. You just need the proper knowledge and to start training the right way to win on the street!
Ordering is easy! For US and Candian orders please click on our order information page to the left, below. All other countries
please click on the International link on the right.
Sincerely,

Michael Pace
PS 90 % of the skills you are learning at your dojo (dojang) are great for sport sparring, conditioning, art form and self discipline. These are all great and I teach them too. But, if you really want to learn how to defend yourself in a real street fight you need my tapes!
DMM Group
1 Stone Ridge Rd.
Sussex, NJ 07461

Orders: Toll Free 1-888-8575715
Customer Service: 973-875-9556
or E-mail customer service
Copyright 2010

Free counters provided by Andale.